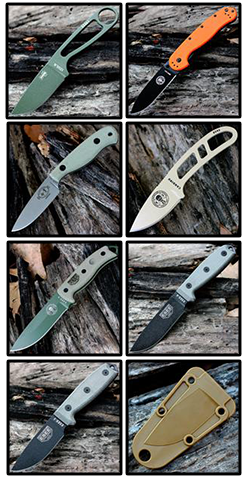 Face the Wilderness
With the ESEE 3 By Your Side
No matter if you are leaving on a short hiking trip or an extended foray into the wilderness, you want a knife you can count on. One blade that is popular with outdoorsmen of all types is the ESEE 3. Made from durable, 55 - 57 Rc 1095 carbon steel, the standard model is 8.31" overall, while the modified pommel model is 8.19". The ESEE 3's overall blade length is 3.88", with a 3.38" cutting edge and a maximum blade thickness of 0.125". The knife itself weighs 5.2 ounces, while the knife and its molded sheath together weigh just 9.3 ounces.
Battle the Elements
With the Lightweight & Versatile IZULA®
Count on an ESEE blade with the same fierce spirit as yourself. The IZULA knife is named after the Isula, the meanest, nastiest ant in the Peruvian jungles. This ant, known to us as the bullet ant, is famous for its independent and tough attitude, as well as being light on its feet and a real aggressive survivor. The IZULA is constructed with the same attributes in mind. It is designed to be a perfect lightweight survival kit or concealed carry knife. Available in both 1095 carbon steel and 440C stainless steel, the knife weighs just 2 ounces without its molded sheath. Its flat grind and 0.156" blade thickness help the IZULA perform a diverse array of tasks. Overall, the IZULA is 6.25" long, while the blade is 2.63". The carbon steel models come with a textured powder coat finish. Optional handle scales are available. With its carabiner hole in the pommel, the IZULA is always within easy reach.